This page is part of © FOTW Flags Of The World website
Donnersberg County (Germany)
Donnersbergkreis, Rhineland-Palatinate
Last modified: 2017-11-11 by klaus-michael schneider
Keywords: donnersberg county |
Links: FOTW homepage | search | disclaimer and copyright | write us | mirrors

---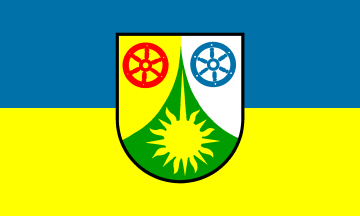 3:5 image by Jörg Majewski, 13 Feb 2010
Flag adopted 27 Oct 1981
See also:
---
Donnersbergkreis
Divided blue and yellow, bearing the arms. Granted 27.10.1981. Sources: Debus 1988 and Ralf Hartemink's International Civic Arms website.
From Ralf Hartemink's International Civic Arms website: The arms were granted on September 4, 1981. The two wheels in the upper part are taken from the arms of the two former districts [Kirchheimbolanden and Rockenhausen]. The blue wheel of Hohenfelsen is taken from the Rockenhausen arms, the red wheel of Bolanden from the Kirchheimbolanden arms. The green point symbolises the forested Donnersberg mountain. The sun symbolizes the sunny plains and the importance of viticulture in the district. The blue wheel on white was originally the blue wheel of the Lords of Falkenstein, and later the county Falkenstein. The Lords of Falkenstein (extinct in 1418) owned the castle Donnersberg in [Rockenhausen]. The red wheel is taken from the arms of the Lords of Bolanden, the oldest noble family in the area.
Literature: Linder and Olzog 1996.
Stefan Schwoon, 29 Jan 2001

Donnersberg county
state Rhineland-Palatinate
flag adopted: 27 October 1981
Jörg Majewski, 13 Feb 2010
---
County Banner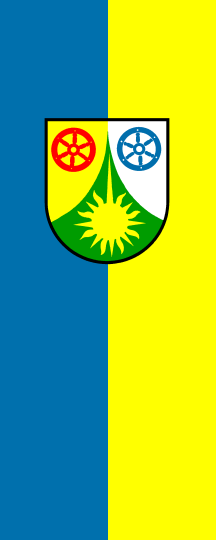 5:2 image by Jörg Majewski, 13 Feb 2010
Flag adopted 27 Oct 1981
---
Cities and municipalities
Verbandsgemeinde* Alsenz-Obermoschel [01]
Alsenz [AZ], Finkenbach-Gersweiler municipality [FG], Gaugrehweiler [GG], Kalkofen municipality [KA], Mannweiler-Cölln [MC], Münsterappel [MS], Niederhausen an der Appel [NA], Niedermoschel [NM], Oberhausen an der Appel municipality [OA], Obermoschel city [OM], Oberndorf [OD], Schiersfeld municipality [SF], Sitters municipality [SI], Unkenbach [UN], Waldgrehweiler municipality [WG], Winterborn municipality [WI].
Verbandsgemeinde* Eisenberg (Pfalz) [02] Verbandsgemeinde* Göllheim [03]
Albisheim (Pfrimm) [AB], Biedesheim [BD], Bubenheim [BU], Dreisen [DR], Einselthum [ET], Göllheim [GL], Immesheim municipality [IM], Lautersheim [LA], Ottersheim [OT], Rüssingen [RS], Standenbühl [SB], Weitersweiler [WW], Zellertal [ZE].
Verbandsgemeinde* Kirchheimbolanden [04]
Bennhausen [BE], Bischheim [BH], Bolanden [BO], Dannenfels [DA], Gauersheim [GH], Ilbesheim [IL], Jakobsweiler [JA], Kirchheimbolanden city [KI], Kriegsfeld [KR], Marnheim [MN], Morschheim [MO], Mörsfeld [MF], Oberwiesen [OW], Orbis [OR], Rittersheim [RI], Stetten [ST].
Verbandsgemeinde* Rockenhausen [05]
Bayerfeld-Steckweiler [BS], Bisterschied municipality [BT], Dielkirchen [DI], Dörrmoschel [DM], Gehrweiler [GW], Gerbach [GB], Gundersweiler [GU], Imsweiler [IW], Katzenbach [KB], Ransweiler [RN], Rathskirchen municipality [RK], Reichsthal municipality [RT], Rockenhausen city [RO], Ruppertsecken [RU], Sankt Alban [SA], Schönborn [SC], Seelen [SE], Stahlberg [SL], Teschenmoschel municipality [TE], Würzweiler municipality [WZ].
Verbandsgemeinde* Winnweiler [06]
Börrstadt [BR], Breunigweiler [BW], Falkenstein [FA], Gonbach [GO], Höringen [HG], Imsbach [IB], Lohnsfeld [LO], Münchweiler an der Alsenz [MW], Schweisweiler [SW], Sippersfeld [SP], Steinbach am Donnersberg [SD], Wartenberg-Rohrbach [WR], Winnweiler [WN].
*An Associated Municipaloty [Verbandsgemeinde (VG)] is an amalgamation of cities and municipalities in Rhineland-Palatinate.
---