This page is part of © FOTW Flags Of The World website
SS, Protection Guard (NSDAP, Germany)
schutzstaffel, ss
Last modified: 2019-07-30 by pete loeser
Keywords: germany | historical | nationalsocialist | nsdap | ss | schutzstaffel | vexillum | swastika | cross: swastika (black) | disc (white) | text: german | deutschland erwache | schreck: julius | garland (gold) | eagles: 4 (gold) | hitl |
Links: FOTW homepage | search | disclaimer and copyright | write us | mirrors

---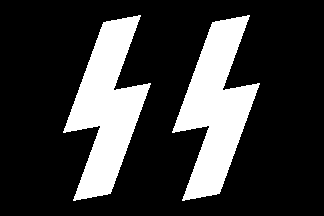 2:3 Image by Jaume Ollé
House Flag of the SS/Hausfahne SS
On this page:
See also:
Other sites:
---
Introduction to the SS
Schutzstaffel
The Schutzstaffel (SS) was founded as Adolf Hitler's bodyguard and was [initially] a part of the SturmAbteilung (SA). When Heinrich Himmler was made Reichsführer-SS in 1929 the SS began to grow in numbers and in power. The SS remained loyal and played an important part when [SA Chief] Ernst Röhm and other leaders of the SA were executed during the night of the long knives in 1934. As a reward for its loyalty the SS was made an independent organization and in 1936 [1937?] the SS was made responsible for all police activity in the Third Reich.
Allgemeine-SS [Universal SS]: The non-armed part of the SS. This included, for example, the Secret State Police (Geheime Staatspolizei) the Gestapo, the Sicherheitsdienst (SD), the Ordnungspolizei (OrPo), the Kriminalpolizei (KriPo) and the guards of the concentration camps.
Waffen-SS [Armed-SS]: The armed forces of the SS. They were founded as SS-Verfügungstruppen [SS-Readily Available Troops] (SS-VT) in 1934 and were renamed Waffen-SS in 1940 when Hitler decided that it, during the war, should be under the command of the Oberkommando der Wehrmacht (OKW), i.e. the the supreme command of the regular armed forces. In 1944 the number of soldiers in the Waffen-SS exceeded 900,000 men.
In some of the occupied territories local SS organizations were founded, so called Germanische SS [Germanic SS], these organizations were theoretically independent but was in reality controlled by the SS. One example of this was the Nederlandse SS in the Netherlands (renamed Germaanse SS in Nederland is 1942).
Marcus Wendel, 1999
---
SS Regimental Standard
SchutzStaffel-Standarte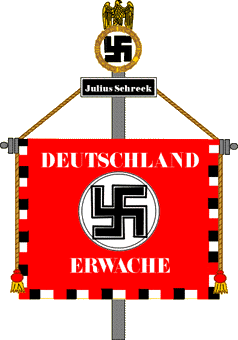 Image by Jaume Ollé
SS Regiment 1 (1. SS-Standarte) "Julius Schreck"
Like the SA Standard except the rectangle above the standard is black.
Norman Martin, February 1998
The tops of the Deutschland Erwache standards are incorrectly drawn. The eagle has spread wings and not closed. I have handled some ten different surviving ones in the process of making the book [England and Spronk 1997].
Otto Spronk, co-author of England and Spronk 1997, 18 May 1999
---
Adolf Hitler's SS Bodyguard Regimental Standard
Standarte der Leibstandarte SS Adolf Hitler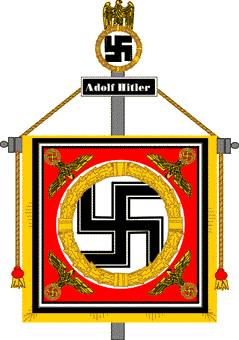 Image by Jaume Ollé
A vexillum-type flag with design like the Führer's Standard except that all 4 corner eagles are of the party type. It also has a gold fringe.
Norman Martin, February 1998
The Leibstandarte SS Adolf Hitler was founded in 1933 as Standarte Adolf Hitler when Sonderkommando Berlin and Sonderkommando Zossen merged. There had been earlier bodyguards but they had been disbanded. Leibstandarte SS Adolf Hitler was expanded during the war and fought as a Waffen-SS Panzerdivision until the war ended.
Marcus Wendel, 13 June 1999
---
SS Battalion Colours
SS-Sturmbannfahne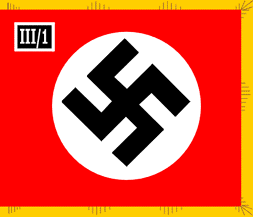 5:6 Image by Jaume Ollé
SS Battalion III of Regiment 1/SS-Sturmbann III der 1. SS-Standarte
---