This page is part of © FOTW Flags Of The World website
Canada - history of the flag (1957-1965)
Last modified: 2020-07-26 by rob raeside
Keywords: canada | red ensign: canada | history: red ensign: canada |
Links: FOTW homepage | search | disclaimer and copyright | write us | mirrors

---
Official flag, 1957-1965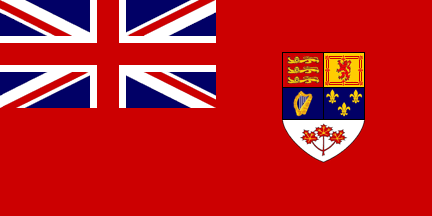 image by Clay Moss, 21 September 2014
---
See also:
---
Chronology of the Canadian Blue and Red Ensigns
original text by Dean Tiegs - 21 December 1997, additions inserted at appropriate places.
Some information from "The Flags of Canada - chapter IV - the Canadian Ensigns" by Alistair B. Fraser.
---
08 October 1957
Coat of Arms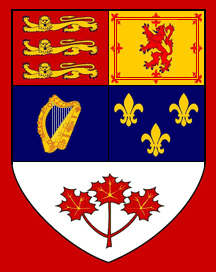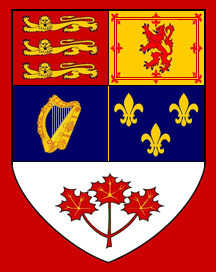 image by Clay Moss, 29 October 2014
The maple leaves at the base of the Canadian royal arms change from green to red. The 1921 proclamation specified that the leaves be "proper," i.e., in their natural colour, but this was ambiguous because maple leaves can be green, yellow, or red. Artists had previously drawn them green, but on this date the secretary of state announced that they should henceforth be red.
Dean Tiegs, 21 December 1997
The formal heraldic description of the Maple Leaves is: "Argent, three maple leaves, conjoined on one stem proper". The heraldic term "proper", of course, can be read as "any naturally occurring colour of the object", which in the case of a maple leaf, can be red, green, or yellow, (depending upon the species depicted and the time of year). The original submission to the College of Arms, London, asked for green maple leaves, hence this is how the authorities subsequently interpreted "proper", once the grant was made.
However, there was some discontent, among certain segments of Canadian society, (no doubt an insignificant minority, given the few people who actually concern themselves with such matters (comme nous) over the choice of green as the interpretation of "proper". This seemed to stem (pardon the pun) from the fact that at about the same time HM King George V formally declared red and white to be Canada's official colours; hence, some people argued that the 3 maple leaves in the shield, (meant, of course, to represent Canada, along with the Dominion's 4 founding nations -- England, Scotland, Ireland, and France), should therefore be red on white, (or argent/gules). The influence of this opinion seemed to grow as time marched on, since subsequent renditions of the maple leaf, (when meant to represent Canada), tended to be presented in red vice green: e.g.., the c. 1940 Canadian Army Battle Flag; as well as numerous Royal Canadian Navy and Air Force wartime badges, as well as the Canadian Army Flag formally adopted in 1947.
Finally, on 8 Oct 1957, the Canadian government formally announced changes to the design of the Red Ensign's, (and Canadian Coat of Arms') shield, to wit:
a) the proper maple leaves were henceforth to be red; and
b) (at the Queen's pleasure) the "female" Irish harp was replaced with the traditional Celtic version of the harp.
Glen Robert-Grant Hodgins, 18 May 1998
Fraser lists one other change to the arms and flag : the border around the Scottish rampant Lion is erroneously changed from a double one to a single one.
Herman De Wael, 23 October 1998
There is a significant change that you may or may not have noticed. The 1921 specifications provided that the badge should have a significantly smaller area than the Union flag in the canton – I recall it as being 25%, but can't be certain without written specifications. In 1957, the area of the badge was increased to make it more visible. If someone on the list has a copy of the specifications, the exact size will be stated.
Michael Halleran, 29 October 2014
According to Alistair Fraser in 'Flags of Canada' there was one other change, or more likely, common error. He wrote that he had not seen a single commercially manufactured Canadian Red Ensign with red leaves, that had not had the double tressure on the Scottish 'quarter' reduced to a single tressure.
David Prothero, 30 October 2014
---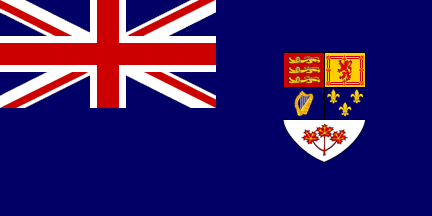 image by Clay Moss, 21 September 2014
The Royal Vancouver Yacht Club currently utilizes the 1957-65 blue ensign as their yacht ensign.
Clay Moss, 21 September 2014
---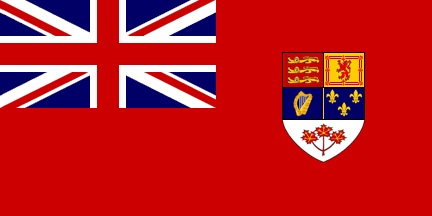 image by Clay Moss, 21 September 2014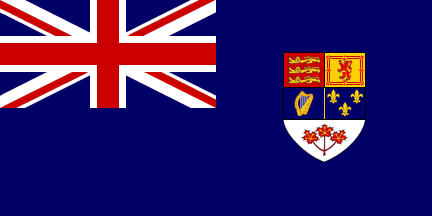 image by Clay Moss, 21 September 2014
Having looked at a very large number of pre-1957 Canada ensigns, I have determined that I should post a variant which includes a yellow gold dividing line between the Irish panel and fleur de lys panel. There are enough photographs of both the gold and black dividing line to justify posting both versions. For the 1957 flag, I also offer variants with a gold fimbriation dividing the Irish and French panel.
Clay Moss, 21 September 2014
---