This page is part of © FOTW Flags Of The World website
City of Sydney (NSW, Australia)
Last modified: 2018-03-03 by ian macdonald
Keywords: new south wales | sydney | ship | globe |
Links: FOTW homepage | search | disclaimer and copyright | write us | mirrors

---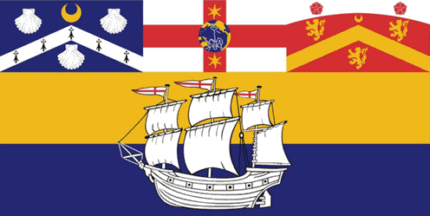 image by Tomislav Sipek, 23 February 2018
based on: www.cityofsydney.nsw.gov.au and www.vexi.info
---
See also:
---
City of Sydney flag
From the official site at: http://www.cityofsydney.nsw.gov.au/
The flag of the City of Sydney

The design of the flag, which is flown from Sydney Town Hall, consists of the shield from the Arms granted by the College of Arms in London on 30th July, 1908.

It comprises:

Top Left: The Arms of Thomas Townshend, Viscount Sydney, Principal Under-Secretary of State in 1788 (after whom the City was named), in honour of his position in the English administration at the time of the City's foundation.

Top Centre: The Naval Flag of England, in allusion to the foundation of the City by Captain Phillip, a Naval Captain. From the beginning Sydney was the naval base of Australia. The red cross on this is overlaid with the Globe and two Stars, the principal features of Captain Cook's Arms, which were granted as a posthumous honour for his service in the discovery of Australia, whilst commissioned naval officer.

Top Right: The Arms of the first Lord Mayor of Sydney, the Hon. Thomas Hughes, M.L.C., a compliment accorded by the Council to the Lord Mayor, during whose first term of office the increased status was granted and in whose fourth term the Arms were settled.

Bottom Centre: A ship, with subdivision of the field into blue and gold, indicative of a shipping port in the Golden South.
researched by Phil Nelson 14 August 1999

Also at www.cityofsydney.nsw.gov.au, is a story on the City of Sydney's new (1996) coat of arms (the flag was taken from the old COA) The new COA contains the crown and anchor symbol which I spoke of and another interesting change is from an Aborigine and a sailor to a serpent with Eora (Sydney a rea tribe) markings and a knotted rope.
Jonathan Dixon, 15 August 1999
---
1830s Sydney Flag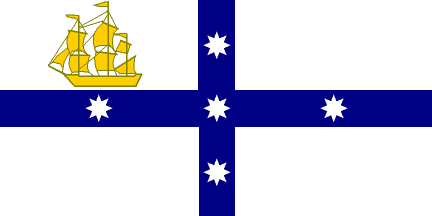 image by Jaume Ollé, 13 Sep 2001
From Flags of Australia [vau83]:
Another design included in Captain John Nicholson's chart which appeared in the New South Wales Calendar and G.P.O. Directory of 1832 was a proposed flag for the Port of Sydney. It featured the Southern Cross and a three masted sailing ship. The Sydney Flag is now used as a house flag for the Sydney Maritime Museum, and as a decorative flag for the City of Sydney.
Jonathan Dixon, 15 September 2001
---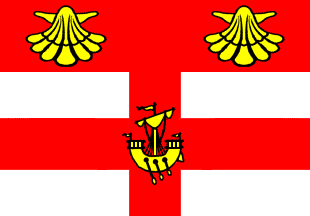 image by Marc Pasquin, 19 January 2016
The flag of Sydney Hospital based on a visual observation. It appear to be a banner of arms . As I was unable to see it from up close, I based the dimension on those of the university of of Sydney since it is related to it.

The flag has a red chief with 2 gold scallops on it and the lower part is composed of a white field with a red cross centered on which is a gold lymphad.
Marc Pasquin, 19 January 2016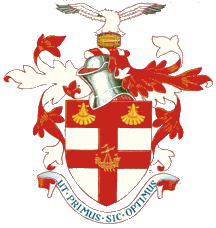 The full Coat-of-Arms of the Sydney Hospital, which clearly shows the Shield design, which is the same basic design for the Hospital Flag as noticed and drawn by Marc. This colour image comes from "A Roll of Australian Arms", Edited by Charles Low (Rigby Limited - Adelaide 1971). This book has the following information on page 26.

"SYDNEY HOSPITAL
Started at Dawes Point in February 1788 by Surgeons of the First Fleet, and transferred to Macquarie Street by Governor Macquarie. Became Sydney Infirmary and Dispensary in 1845, and Sydney Hospital from 1881.

ARMS: Argent, on a Cross Gules a Lymphad Or, on a Chief of the second two Escallops Gold.
CREST: On a Wreath of the Colours, a Sea Eagle displayed perched on a Rum Barrel all proper.
MOTO: 'Ut Primus Sic Optimus'. ('Although First Still the Best')

Granted by Kings of Arms on 10 May 1963 (Earl Marshal's Warrant 27 April 1962).

EXPLANATORY NOTES (From a Hospital booklet Information for Patients)
The Shield is dominated by a Red Cross which will bring to mind the primary object of the Hospital, humanitarianism and healing. In the centre of the cross the lymphad, or galleon, suggests the Hospital's association with the early fleets and its location at a seaport, and refers also to the lymphad in the Arms of Macquarie himself.

The gold escallops on the Chief are taken from the Arms of Thomas Townshend, Viscount Sydney, after whom the City of Sydney was named, and whose Arms are incorporated in the City (q.v.).

The Crest consists of an eagle perched on a rum barrel, the latter referring to the rum currency which financed the building of the Hospital. The eagle is the sea eagle, indigenous to the east coast of Australia, which, in legend, has the capacity for rejuvenation by diving into the sea."

Further this information, a newspaper article about the granting of the Sydney Hospital Coat-of-Arms was published in "The Sydney Morning Herald", Friday, 17 April 1964, p.2. Should anyone wish to have a higher resolution image of this Coat-of-Arms, about 390 KB, I am happy to send this to them off-line.
Ralph Bartlett, 19 January 2016
---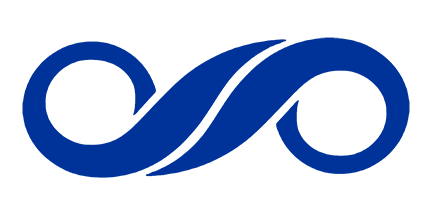 image by Marc Pasquin, 5 May 2016
A flag seen flying in front of Sydney's Maritime Museum, a fairly large museum along Darling with both indoor exhibits as well as a small collection of functioning ships floating next to it that can be visited.

The flag is a LOB (blue on white) although it should be said that as the logo is more horizontally spread, it's more pleasing then some others.
Marc Pasquin, 5 May 2016
"The Australian National Maritime Museum (ANMM) is a federally operated maritime museum in Darling Harbour, Sydney. One of six museums directly operated by the federal government, the ANMM is the only one located outside of the Australian Capital Territory. It was opened in 1991"
Sources: http://www.anmm.gov.au/about-us/our-history and https://en.wikipedia.org/wiki/Australian_National_Maritime_Museum

For additional information go to ANMM (official website): http://www.anmm.gov.au/
Esteban Rivera, 6 May 2016