This page is part of © FOTW Flags Of The World website
Flags used November-December 2001 (Afghanistan)
Last modified: 2021-09-04 by ian macdonald
Keywords: text: arabic (blue) | shahada (blue) | unidentified flag |
Links: FOTW homepage | search | disclaimer and copyright | write us | mirrors

---
---
See also:
---
Flags used during the November-December 2001 war
In September 1996 the Taliban took over the capital, Kabul, and soon thereafter most of Afghanistan. From then until the war that followed the 11th September 2001 attacks against New York and Washington, the green-white-black flag was only used in Northern Afghanistan, the United Nations building plus some embassies (e.g. Iran). After the Taliban defeat in November-December 2001, both the 1992 flag and the 1973 flag —and even the earlier April 1992 flag— were flown by different factions within the anti-Taliban forces.
Santiago Dotor, 12 December 2001
The Northern Alliance —remnants of pre-Taliban government (and therefore "official" i.e. UN-recognized until the current interim government took over), not monarchy-supporting, Tajik, dominant in current government— flies green-white-black, often without arms, sometimes vertical. As they are also somewhat Islamist (not as far as the Taliban), the colors fit more than black-red-green, in any event the Southern/Pashtun-dominated, more secular, monarchical colors.
The "Southern Alliance" —monarchy-supporting, Pashtun/Pakistani with some Iranian elements, member of current government, including the interim leader Karzai— flies black-red-green (including the version with a double-width lower stripe), usually without arms, sometimes vertical.
Nathan Lamm, 21 January 2002
This news in the New York Times of today, online here, tell about that usage:
Rival Flags Stir Afghan Fear
(...)
Kandahar, Afghanistan, Feb. 1 - There are two military checkpoints just 100 yards apart at Farah, a major market town in the center of Farah Province, in western Afghanistan, but the soldiers manning them fly different flags.

One group, loyal to the governor of Farah, Abdul Hai Neamati, and to the central government, flies the green, red and black flag from the era of the former ruler, Mohammad Zahir Shah, which has just been declared the official flag of the country once more.

Farther down the road stand the troops of Ismail Khan, from Herat, who have been guarding the road since chasing the Taliban out in November. They fly the green, white and black flag of the mujahedeen government that held power from 1992, when Mr. Khan controlled all of western Afghanistan. (...)

The soldiers manning the checkpoints in Farah, all anti-Taliban fighters, many of them back from exile in Pakistan or Iran, said the flags meant little. "We are all one government now," said Arbob Gani, 29, one of Mr. Khan's men. "They just did not send us a new flag yet."
Kitabulu, 4 February 2002
---
Unidentified Flag behind President Rabbani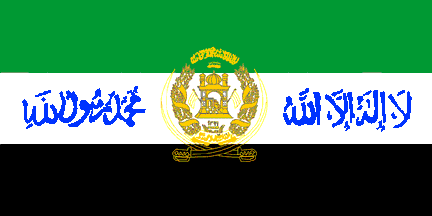 image by Jaume Ollé and Santiago Dotor
Recently, in a news flash I saw on the European TV channel Euronews, I perceived what may be the Afghan presidential flag. In a picture showing President Burhanuddin Rabbani sitting in a room in the Bonn residence where the peace negotiations for post-war Afghanistan were organized, there was an Afghan flag, stuck on the wall above Rabbani's head, with three horizontal stripes, green, white and black, and the golden coat-of-arms, and on the white stripe, with a Shahada in light blue Arabic script. The Shahada was divided into two parts, "La ilah illa Allah" on the right of the coat of arms and "Muhammad rasul Allah", on its left. As for the calligraphy of the Arabic script, it is like that of the Afghani flag used before December 1992.
Omar Amastan Mouffok, 17 December 2001
I also saw that flag displayed frequently beside or in front of (former) Pres. Rabbani, not at the Bonn talks which he did not attend, but rather at his press conferences in Kabul's presidential palace. I do not know what the meaning of this flag is — a (proposed) new national flag, a presidential flag, or simply a variant of the national flag with a greater emphasis on shahada (note that the shahada is already contained in the arms) to celebrate victory over the Taliban. Anyway, using the images of the April and December 1992 flags I have made an image of this unidentified flag. I am not sure if I have divided the shahada appropriately.
Santiago Dotor, 17 December 2001
At that time, Burhanuddin Rabbani was still the internationally recognized president of the Islamic State of Afghanistan. Hamid Karzai's interim administration took office on 22 December 2001.
Jan Zrzavy, 17 December 2001
I watched the TV news on 22 December 2001 (German ARD channel, Tagesthemen) to get a glimpse of flags used at the swearing-in of the Afghan interim prime minister Karzai and handing-over of power from Rabbani to Karzai. There was not much around, though. The only flag I saw was similar to the presumed 'presidential flag' reported above. The flag was carried on a staff, so one could only see a part of the flag. It was a green-white-black horizontal triband (coat-of-arms was not visible), showing inscriptions in the green field (white inscription) and the white field (pale blue inscription). The speaker's stand, where Karzai was standing, was bearing the 1992 coat-of-arms (or at least very similar to it).
Marcus Schmöger, 24 December 2001