This page is part of © FOTW Flags Of The World website
New Zealand - Proposals for a new flag
Last modified: 2015-09-18 by ian macdonald
Keywords: proposal: new zealand | leaf: fern | fern | southern cross | stars: southern cross | koru | korukouwhaiwhai | hundertwasser (friedensreich) |
Links: FOTW homepage | search | disclaimer and copyright | write us | mirrors

---
Various proposals:
See also:
Other sites:
---
Calls for a new flag
Recently, there have been a number of calls for a change to the New Zealand flag. The most notable was in a document entitled "New Zealand Tourism Strategy 2010", saying that a distinctive flag would be advisable for New Zealand in terms of visability in tourism. The alternative design proposed was the black flag with the white (technically silver) fern leaf. The government, however, has said that a change of flag is not a priority, and that a good deal more discussion would be required before any change could be made.
Thomas Robinson, 17 May 2001
Notes from a paper entitled "Past Attempts to Change the New Zealand Flag" by John Moody, New Zealand [mooXX]
(Note that these notes are somewhat abbreviated - I could only write so fast! It would be appreciated if any NZers (or others) could fill in any gaps in the chronology.)
[Some gaps filled using a version of the paper from Crux Australis [cxa] No. 66 (Vol 16/2)] Considerable discussion has arisen over the past 40 years surrounding the appropriateness of the New Zealand flag. Those who want change note that it is a colonial flag, not truly representative of an independent New Zealand, that it is too similar to the Australian flag, and that it does not represent the modern multicultural New Zealand. Those who wish to retain the present flag note that it reflects New Zealand's historical ties with UK, that there is no good alternative, and that New Zealanders have fought and died under it.
One of the first proposals was by Clark Titman and appeared in 1967. It showed a red-white-blue-white-red horizontally striped flag, in a ratio of approximately 3:1:8:1:3, with the white fimbriated red stars of the Southern Cross on the centre of the blue stripe. The chronology of change continues from there:
May 1973: Labour Party Congress - a call to change the flag was squashed.
Nov 1979: a proposal to place the silver fern on the fly appeared.
1980: several suggestions arose, including one from the government to consider a new flag, and a newspaper article calling for the same. One suggestion was to use the NZ-ZN in blue and red on a white field, from the flag that was used for the 1974 Commonwealth Games.
1982: D.A. Bayle introduced a blue-white-blue flag with a blue koru as a proposal.
March 1983: F. Hundertwasser introduced the green koru.
1984: a black and white koru with stars was proposed, and a black flag with four white fimbriated red stars was suggested from a newspaper competition.
Dec 1988: a modified Titman proposal with vertical stripes (almost identical to an Ausflag proposal in 1997 for Australia).
1989: at a Labour Party conference a call for a new flag was defeated 144:156.
1990: the winning flag in another newspaper competition was a blue-white-green horizontally striped flag, ratios about 8:2:3, with four white stars on the blue stripe in the fly. Another flag seen around 1990 was a blue-yellow-green horizontally striped flag in approximately 10:1:8 ratio.
1994: J. Park proposed a black flag, the UJ in the canton, with white kiwi and ferns in the fly.
1998: James Dignan initiated discussion leading to a white fern above a red diagonal on a black field. [James Dignan's design also feature the current southern cross on a blue background in the lower half of the flag. -Editor]
1999: above design modified to white fern on black. [Dignan's design was not modified. -Editor]
May 2000: proposed designs still appearing, including black-white-green tricolour, with four gold stars and a koru.
March 2014: speech by Prime Minister John Key on the future referendum on the New Zealand flag can be read here: http://www.beehive.govt.nz/speech/speech-victoria-university-0
The current situation (July 2001) is that change is being resisted. Decals proclaiming "Keep it this way" are seen on cars. By NZ law, a 65% majority is needed to change the flag, and a recent bill was lost. Opinion polls (1999) showed that there was 24% in favour of change, and 64% opposed, but when presented with the white fern on black, these numbers changed to 33% in favour of the fern, 60% opposed.
The silver fern is increasingly being seen on the streets. It was first used by the All Blacks rugby team, and is a native species. One of its earliest uses as a New Zealand emblem was on headstones of WW1 servicemen.
Rob Raeside, 1 August 2001
The most common designs are two variants of the black fern on white - one of them basically the same as the one used by supporters of the All Blacks and one the stylised fern promoted by nzflag.com (the latter seems to be slowly falling out of favour, probably as much as anything because the people involved seem, erm, somehwhat single-minded in their approach, shall we say). The third best-known alternative design is the "Koru" flag of Hundertwasser, though that's seen more as a complementary alternative flag than as a replacement for the current one.
James Dignan, 19 May 2006
On 9 February 2014, New Zealand Prime Minister John Key unexpectedly suggested changing the design of the country's national flag.
http://www.bbc.com/news/world-asia-pacific-26114113
Howard J. Wilk, 10 February 2014
New Zealand will be holding a general election on September 20th, and on Wednesday 3rd of September, the Labour Party's Internal Affairs Spokesman Trevor Mallard announced "that Labour would review the design of the New Zealand flag, with the party saying "The time has come for a change and it is right for the issue to be put to the public.""
So what this is saying is that whatever the outcome of the election both major parties are now in favour of changing New Zealand's flag. Prime Minister John Key wants a referendum held on the matter before the next general election to be held by 2017. It looks as though New Zealand will follow Canada and South Africa down the path of flag change.
John Moody, 6 September 2014
The New Zealand Prime Minister who was re-elected on Saturday announced yesterday that "I'd like to complete the whole process next year. I don't think it's one of those things we want to hang around." The debate will be decided by referendum and Key has already started making the case for change, labeling the current design of a Union Jack and Southern cross "A relic from New Zealand's colonial past."
The Returned and Services Association has already lined up against any change. The momentum to change the New Zealand flag continues to speed up with backing now by the two major political parties in New Zealand, National and Labour but also our Prime Minister and Governor General. For a nation's flag to change it needs a champion, here we have it in our Prime Minister John Key our version of Canada's Lester Pearson.
John Moody, 22 September 2014
The momentum to change the New Zealand Flag continues apace. The first of two referendums on changing New Zealand's flag could be held as early as next year, with a decision in early 2016, according to press reports this week (Thursday) in the New Zealand media. Prime Minister John Key addressed the Returned and Services national conference on Wednesday "to lay his case for a new New Zealand ensign." The Returned and Services Association has already come out in opposition to adopting a new flag for New Zealand. John Key had softened his preference for a Silver Fern on a black background saying, "it was unlikely to be a popular option." He had been swayed more toward a design by Kyle Lockwood that retained the colours of New Zealand's current flag with a Silver Fern and Southern Cross.

This weekend we saw the flag being debated on the current affairs programme, The Nation on Television Three with two advocates debating the pros and cons of flag change, one advocate being for change the other against. You can view this programme on demand if you type in tv3.co.nz.

New Zealand Prime Minister John Key was interviewed by the British media this week telling them that "his desire to remove the Union Jack from the flag is more rebranding than an insult." This was reported in this morning's Sunday Star Times. He went onto say, "We are no longer the tiny little offshoot of Britain in the South Pacific. The thing is it should sort of scream 'New Zealandness'. I want to build greater confidence in and more overt signs of patriotism."
John Moody, 18 October 2014
Details of the referendum to decide whether New Zealanders want to retain the current New Zealand Flag or adopt a completely new design were announced yesterday by New Zealand Prime Minister John Key. A flag consideration committee panel would be set up consisting of a group of respected New Zealanders who would then seek submissions from the public on new flag designs and suggestions. Two binding referendums would then be held, one to be held November-December 2015 for voters to pick their favourite alternative flag design, the second to be held in April 2016 for a run off between the current flag and the winning alternative flag.

Controversy has surrounded the referendum process which has been costed at N.Z. $ 25.7 million with critics saying this money could be better spent on other things. Interviewed on New Zealand Television last night New Zealand Prime Minister John Key said that Canada was his inspiration in trying to get the New Zealand flag changed. The urrent debate to get New Zealand's flag changed and the upcoming referendums to decide whether it is changed or not is especially topical with next years Congress of Vexillology being held in Sydney, Australia, New Zealand's near neighbour.
John Moody, 29 October 2014
John Key raises the flag debate whenever there are more important political policies he wishes to distract the public from - it has been a regular smokescreen of his for the last six years. Recent polls have shows that the majority of New Zealanders do not want the flag to be changed, and are, for the most part, fed up with the constant debate, so he has initiated this pair of referenda to ensure they stay at the top of the nation's public political focus. Key, however, is keen to have a new flag, and sees it as a potential "legacy to the nation". Presenting this as a pair of referenda has its critics - not least because there have been at least two citizens-initiated referenda during Key's premiership, the results of both of which his government has ignored. Another major criticism is that half the cost could potentially be saved if the order of the referenda was reversed. What is the point of deciding an alternative design (as decided in the first referendum) if the public wish to keep the present flag (as decided in the second)? There is only one purpose - by deciding on a design in the first, it will focus the public's attention on the new design and make it familiar to them, swaying them towards that in the second referendum.
James Dignan, 29 October 2014
---
An article in the New Zealand Herald announces the names of the members who will decide on a new flag proposal. After they have decided on a design we then there would be a vote to see if New Zealand retain the old one or takes the new one.


The panel includes including reality television guru Julie Christie, businessman Rod Drury, former Defence Force chief Lieutenant General Rhys Jones and sporting legends Beatrice Faumina and Sir Brian Lochore. Deputy Prime Minister Bill English announced the Flag Consideration Panel today [26 February 2015], which will be chaired by John Burrows, the former deputy chancellor of the University of Canterbury. Writer Kate de Goldi is the deputy chair. Others include Nicky Bell, the chief executive of ad agency Saatchi and Saatchi; former Dunedin Mayor Peter Chin, youth councillor Stephen Jones, academic Malcolm Mulholland and Maori studies academic Hana O'Regan.
Mike Parke, 25 February 2015

From http://www.telegraph.co.uk/news/worldnews/australiaandthepacific/newzealand/11793864/New-Zealands-new-flag-Some-of-the-weird-and-wonderful-designs-in-pictures.html:
New Zealanders were presented with 40 flag options (above) as the country moved a step closer towards voting on whether it wanted to change its national standard. The government-appointed panel overseeing the project released its longlist of designs, chosen from more than 10,000 public submissions. The 40 will now be subject to further scrutiny, including an intensive intellectual property review, before being whittled down to four to be put to a public vote later this year.
Here is a selection of some of the weird, bizarre and wonderful designs that were submitted by the public over the past year.

Composite of 40 finalists image at:
http://i.telegraph.co.uk/multimedia/archive/03403/new-zealand-flags-_3403196k.jpg

For an NZ take on the situation: http://www.stuff.co.nz/national/politics/70996308/a-list-of-40-possible-alternative-flags-chosen-from-10000

The NZ government page describing the status is at https://www.govt.nz/browse/engaging-with-government/the-nz-flag-your-chance-to-decide/gallery/
Rob Raeside, 10 August 2015

From "Thank you NZ": 10,292 alternative flag designs were suggested to the Flag Consideration Panel. The Panel would like to thank everyone who suggested a design.
View on www.govt.nz
Alex Garofolo, 7 September 2015
---
Silver Fern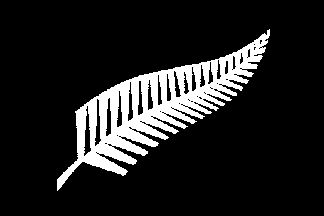 image by Pascal Gross, 7 September 1998

By reading the results of this poll [organized by FlagWire], it appear that people voting in favour of a new flag for New Zealand often mentioned the Black flag with the silver fern present on the rugby team (All Blacks) jersey.
Pascal Gross, 7 September 1998

Recently, there have been a number of calls for a change to the New Zealand flag. The most notable was in a document entitled "New Zealand Tourism Strategy 2010", saying that a distinctive flag would be advisable for New Zealand in terms of visability in tourism. The alternative design proposed was the one already mentioned [above], being the black flag with the white (technically silver) fern leaf. The government, however, has said that a change of flag is not a priority, and that a good deal more discussion would be required before any change could be made.
Thomas Robinson, 17 May 2001
---
Stylised Silver Fern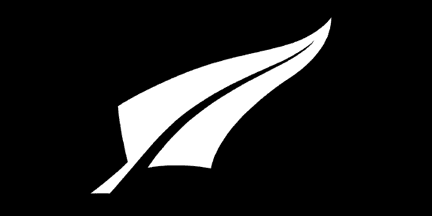 image by António Martins 26 April 2006

This design has been actively promoted by the people behind NzFlag.COM, as seen at http://www.nzflag.com/example.cfm. It is a black 1:2 flag with a white highly stylized fern frond on it, lacking the characteristic indentations.
António Martins, 26 April 2006