This page is part of © FOTW Flags Of The World website
People's Democratic Republic of Ethiopia (1974 - 1991)
Historical Flag
Last modified: 2014-05-30 by bruce berry
Keywords: ethiopia |
Links: FOTW homepage | search | disclaimer and copyright | write us | mirrors

---
See also:
---
Background
A Soviet-backed Marxist-Leninist military junta (the Derg) led by Mengistu Haile Mariam deposed Emperor Haile Selassie I on 12 September 1974 and established a one-party state which was called the People's Democratic Republic of Ethiopia to replace the Empire of Ethiopia.
In May 1991 the Mengistu regime came to an end following the fall of communism in Europe and withdrawal of Soviet support. A new Transitional Government of Ethiopia was set up and a new constitution allowing for multi-party elections was established in 1994.
Bruce Berry, 11 Dec 2010

---
People's Democratic Republic of Ethiopia (1974 - 1987)

Image by Ivan Sache, 18 July 2000
The new government which replaced that of Emperor Haile Selassie continued to use the plain Ethiopian tricolour of green, yellow and red.
Nick Artimovich, 12 June 1996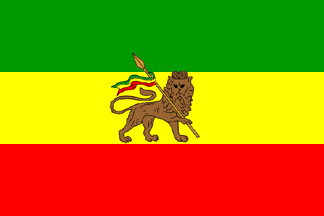 Image by Željko Heimer, 06 June 1996
However, the State flag was modified after Haile Selassie's overthrow by removing the crown from the lion's head and by changing the Cross finial to a Spear point. This version lasted only a few years until 1987 when a new emblem was adopted and replaced the lion emblem in the centre of the state flag.
Nick Artimovich, 12 June 1996

---
People's Democratic Republic of Ethiopia (1987 - 1991)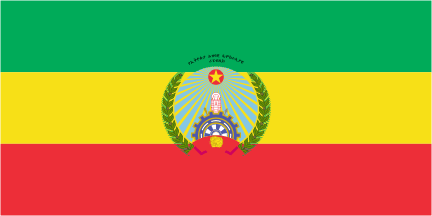 1:2 Image by Manuel Gabino, 14 Dec 2002
This is the flag used by Ethiopia between 1987 and 1991. In 1987 Ethiopia became a Democratic People's Republic and Mengistu was confirmed in the presidency. The country was divided into 24 administrative regions and 5 autonomous regions: Eritrea, Assab, Ogaden, Tigre, and Dire-Daua. (Source: "Guía Mundial", edited by Abril Cinco (Colombia) (1992). This was the flag flown at the Barcelona Olympics in 1992 and has the new national emblem placed in the centre of the Ethiopian tricolour.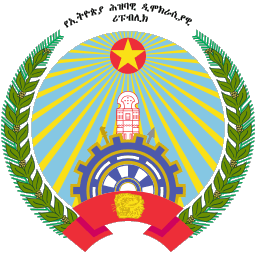 Images by Manuel Gabino, 14 Dec 2002
The shield is circular in shape and is blue bearing (according to William Crampton) the "obelisk of Axum" (a former Kingdom in the region of Tigre), a cogwheel, a red ribbon depicting a golden lion's head, an spear and a scepter, a yellow star on red and a the country's new name at the top in Amharic characters.
Manuel Gabino, 14 Dec 2002

Image sent by Robert Czernkowski, 10 June 1998
This flag appeared on the most common postage stamps even for years after the overthrow of the socialist government in 1991. The central device is the emblem of the "Peoples Democratic Republic of Ethiopia" as the country was called at the time. The five pointed star and rays over a cogwheel is surrounded by a wreath of green leaves.
Simon Gardner, 07 April 2001
---
War Ensign (Blue Ensign)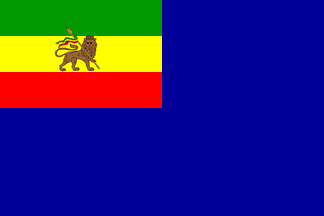 Image by David Cox, 15 Aug 2004
Like the State flag, the ensign was modified after Haile Selassie's overthrow on 12 September 1974 by removing the crown from the lion's head and by changing the Cross finial to a Spear point.
Jaume Ollé, 06 Feb 1999
---