This page is part of © FOTW Flags Of The World website
Tenerife Island (Santa Cruz de Tenerife Province, Canary Islands, Spain)
Last modified: 2010-10-08 by eugene ipavec
Keywords: tenerife | canary islands | saltire (white) | cross: saltire (white) |
Links: FOTW homepage | search | disclaimer and copyright | write us | mirrors

---
---
---
See also:
---
Other sites:
---
Description
The flag of the island of Tenerife was adopted on 9 May 1989.

Jaume Ollé, 10 Jan 1997

There is no St Andrews' or Scottish connection that I know of. The flag was originally adopted in 1845 as the identification flag for ships registered in the Canarias maritime province, and when that province was divided in 1867 into the Santa Cruz de Tenerife and Las Palmas de Gran Canarias maritime provinces, the former "inherited" it.

These registration flags were designed in geometrical (and vexillologically quite pleasing) patterns such as crosses, saltires, bordures etc. with no relationship at all to regional symbolism.

Santiago Dotor, 26 Jun 2003

The flag was established as maritime register flag of the Maritime Province of the Canary Islands on 30 June 1845. The choice of the pattern was completely arbitrary. The only purpose was to distinguish this flag from other Spanish register flags. When the province was divided into two parts in 1869, the flag remained as flag of the Maritime Province of Santa Cruz de Tenerife, while Las Palmas got a different flag. On 9 May 1989, the flag became that of Tenerife Island. The order was published in BOC on 22 May 1989.

The blue flag with the white saltire may have changed its ratio and its shade of blue a few times, but it still remained more or less the same til today. On nowadays flags navy blue is used, and the ratio is at least 3:5, maybe even 1:2.

Source: Simbolos De Canarias website by José Manuel Erbez

Klaus-Michael Schneider, 31 Mar 2008
---
Flag With Arms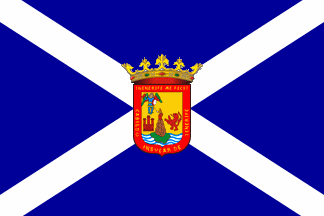 image by José Manuel Erbez and Eugene Ipavec, xx Mar 2010
There also exists a flag version with coat of arms (photo). I believe that (on that flag) the coat of arms has no olive branches.
Klaus-Michael Schneider, 31 Mar 2008
The pattern of the flag of Tenerife island with CoA is doubtful. I only had an image of an indoor flag. Erbez mentioned on his new webpage "Simbolos de Canarias" that the CoA of the island had been changed in order to distinguish from that of Santa Cruz de la Laguna. The image is small enough, that you couldn't read the inscription on the border, but unfortunately they have added two olive branches beneath the shield, which you can't recognize on the photo. Erbez, who is a Tinerfeño, was taken by surprise that they used this pattern on his island.
Klaus-Michael Schneider, 21 Mar 2008
---
Vertical Version



I saw the vertical flag of Tenerife Island hoisted from a staff with horizontal bar in the port area of Los Christianos, Tenerife Island, on 11 February 2010. The 3:1-ratio flag was blue with a white saltire.

Klaus-Michael Schneider, 10 Mar 2010

 
 
image by Klaus-Michael Schneider, 10 Mar 2010
---
Local Urban Legend Regarding the Origin of the Flag
It is written on your site it has nothing to do with St. Andrew's Flag but I was told different by an Official state tour guide. She told me that the flag was taken when Admiral Nelson was beaten in battle and surrendered his ship's flag he gave the St. Andrew's flag instead of the Union Flag, so as not to offend the King Of Britain.
Alasdair Hudson, 08 Aug 2009
I suspect this is a local urban legend, as the Tenerife flag appears to be derived from the Spanish maritime province flag.
Rob Raeside, 08 Aug 2009
---
Coat of Arms

image by José Manuel Erbez, 31 Mar 2008

According to Heráldica Institucional de Canarias [las03], the coat of arms of the city of San Cristóbal de La Laguna and of Tenerife Island are the same, granted by Queen Juana la Loca on 23 March 1510 by a royal cedúla or letter of obligation.

José Manuel Erbez claims, however, that there is a difference: in 1912 the island council was established. Then or later (?) the motto on the bordure was altered. The new inscription was Thenerife Me Fecit. Cabildo Insular de Tenerife ("Tenerife has made me. Island council of Tenerife"), replacing the previous "Michael Arcangele, veni in adjutorium populo dei, Tenerife me fecit." or "Archangel Michael, come to aid the people of God, Tenerife has made me." Later, two olive branches were added beneath the shield.

Source: Simbolos De Canarias website by José Manuel Erbez

Klaus-Michael Schneider, 31 Mar 2008