This page is part of © FOTW Flags Of The World website
Toronto, Ontario (Canada)
Last modified: 2014-07-14 by rob raeside
Keywords: toronto | ontario |
Links: FOTW homepage | search | disclaimer and copyright | write us | mirrors

---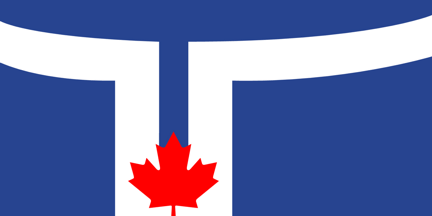 image by Pascal Gross
---
See also:
External links
---
Toronto flag
see also the Proposed Flag

The white band is supposed to resemble a T for the city's name, but also recalls the appearance of the City Hall building. The flag was adopted on the 140th anniversary of Toronto in 1974.

I got this information from Kevin Harrington's article "Seven Cities in Search of a Flag" published in the Communications of the XI International Congress of Vexillology (Madrid, 1985). The City of Toronto is one of the seven administrative units making up Toronto. The others are Metropolitan Toronto (covering the whole of the city - the City of Toronto is only the city centre) and the cities of East York, Etobicoke, North York, Scarborough and York. All of them have flags.
Jan Oskar Engene
---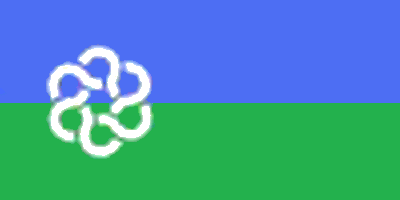 image located by Doug Bloudoff, 2 November 2011
A blue-green horizontal bicolor with a white six-looped design toward the hoist.
---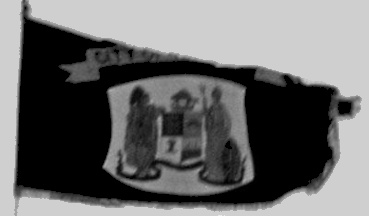 image located by Valentin Poposki, 18 November 2011
A dark blue(?) flag with the arms and a ribbon with the name above.
---
Proposed Flag for Toronto
Council committee picks Toronto's 25-year-old design

By Bruce DeMara
Toronto Star City Hall Bureau

What's old is new again.

After two failed attempts to adopt a new flag for the unified Toronto, city council's administration committee has chosen the flag of the former city of Toronto as the preferred design.

The flag - a blue background, a stylized white T symbolizing the two towers of Toronto City Hall and a red maple leaf - still has to be approved by city council.

In the process, councilors rejected the preferred design recommended by city staff along with a slew of others offered by graphic designers employed by the city.

That was welcome news to Rene De Santis, the winner of the former city's flag competition 25 years ago.

``I'm very happy. Twenty-five later . . . it still stands up and it's a classic design,'' said De Santis, who won the city-wide competition as a 21-year-old George Brown College student.
contributed by Phil Nelson
one of the proposals that were considered

---
Neighborhood flags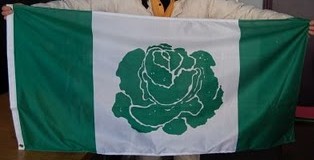 image located by Jan Mertens, 2 October 2011
Cabbagetown is a lively neighbourhood of Toronto, Canada: http://www.oldcabbagetown.com, http://en.wikipedia.org/wiki/Cabbagetown,_Toronto and proudly flies its own flag:
http://www.oldcabbagetown.com/comm_open.php
http://cabbagetownnews.blogspot.com/2009_02_01_archive.html

Green field, white Canadian pale, on the pale a green cabbage. More pics are available on the internet, the apparent colour differences are not relevant I suppose. Once seen, never forgotten!
Jan Mertens, 18 August 2010
---
Two Toronto newspapers, "The National Post" and "The Torontoist", have jointly launched the Neighborhood Flags Contest "Flags for All":
"[...] we're urging our combined, talented readers to design Toronto neighbourhood flags, starting with the eclectic Kensington!".
Two flag proposals are shown on the websites of the organizing newspapers: The National Post and The Torontoist.
Ivan Sache, 4 October 2007
---
"The National Post", 1 November 2007, shows the six finalist flags, including two flags proposed by someone we all know here (am I right to see the influence of Piet Mondriaan in these two "block" flags?). There are comments by the two columnists who organized the contest beside each proposal, and these comments are particularly sounded.
http://communities.canada.com/nationalpost/blogs/toronto/archive/2007/11/01/flags-for-all-kensington-finalists.aspx
Ivan Sache, 11 November 2007

---
Having lots of experience with flags and flag design, I see some flaws in the choice for Kensington. The colours would be well chosen if they appear in darker tones; light green and light yellow however will fade in the first sunlight that hits them. The K device is also ill-chosen - first off all it is readable from only one side of the flag (all words and letters on flags have this problem!) Secondly what does an 'Olde English' style of font have to do with the market neighbourhood, apart from the name of a street 'Kensington' of English origin. Secondly this particular mixed font is highly suggestive of a Chinese-language character; this would mislead. I recall in the late 1940s, when we lived on Spadina, we didn't call it Kensington Market rather it was known as the Jewish market. Keep, but darken, the colours because they are representative of baked goods (gold or bright yellow) and vegetables (greens, fruit) major market staples over many years. Substitute a bagel for the letter K and you got it.
Kevin Harrington, 2 December 2007