This page is part of © FOTW Flags Of The World website
United Kingdom: London Trained Bands
Last modified: 2012-01-20 by rob raeside
Keywords: london trained bands |
Links: FOTW homepage | search | disclaimer and copyright | write us | mirrors

---
See also:
---
See Colours of Infantry Militia in English Civil War for background information on the Trained Bands. Details of individual colours are shown for the Yellow regiment; it is mostly sufficient to show just the Sergeant Major's colour of the other units.
Klaus-Michael Schneider, 8 November 2010
Sources:
Ede-Borrett (1987)
Peachey and Prince (1991)
Keith Roberts: 'London and Liberty- ensigns of the London Trained bands'; Leigh-on-Sea, 1987, Partizan Press
Peter Young and Richard Holmes: 'The English Civil War - A Military History of the Three Civil Wars 1642-1651', London 1974, Purnell Book Services; [www.traynedbandes.org.uk]
---
'Stand of colours' is a term that was applied to English colours. It was mentioned in a book of Cpt. Thomas VENN: "Military Observations or The Tacticke put into Practice", published in 1672. Here is the complete stand of colours (type VENN B) of existing companies of the yellow regiment. The sheet was yellow, the devices were black 5-point stars rotated anticlockwise 45° thus pointing at the upper hoist corner.
Colonel's colour was a plain yellow flag, Lieutenant Colonel's colour was yellow with a St. George canton, Sergeant Major's colour had added one black 5-point star, 1st Captain's colour two stars, 2nd Captain's colour three stars, 3rd Captain's colour four stars, 4th Captain's colour five stars as shown below.
Ian Sumner, Christopher Southworth and Klaus-Michael Schneider, 8 November 2010

image by Klaus-Michael Schneider, 8 November 2010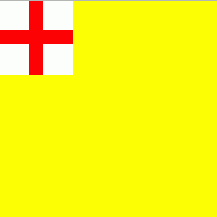 image by Klaus-Michael Schneider, 8 November 2010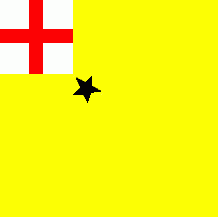 image by Klaus-Michael Schneider, 8 November 2010
image by Klaus-Michael Schneider, 8 November 2010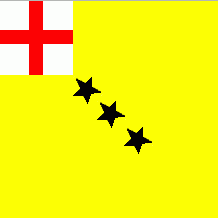 image by Klaus-Michael Schneider, 8 November 2010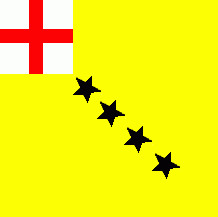 image by Klaus-Michael Schneider, 8 November 2010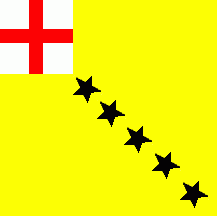 image by Klaus-Michael Schneider, 8 November 2010
image by Klaus-Michael Schneider, 8 November 2010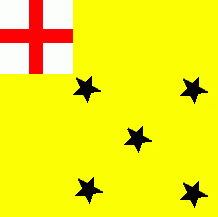 image by Klaus-Michael Schneider, 8 November 2010
The devices had not always been ordered per bend. There were e.g. also 2nd Captain's colours having three stars ordered as a triangle 1:2 and 4th captain's colour having five stars ordered in quincunx.
Ian Sumner, Christopher Southworth and Klaus-Michael Schneider, 8 November 2010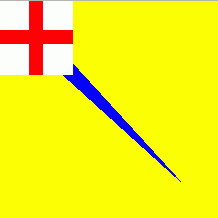 image by Klaus-Michael Schneider, 8 November 2010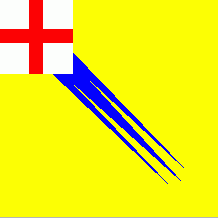 image by Klaus-Michael Schneider, 8 November 2010
The sheet was yellow, the devices were blue piles starting from the canton and pointing to centre, looking somehow like rays coming out from the canton. The Sergeant Major's colour was yellow with one blue pile coming out of the canton, 2nd Captain's colour was the same with three piles.
Ian Sumner, Christopher Southworth and Klaus-Michael Schneider, 8 November 2010
---
image by Klaus-Michael Schneider, 8 November 2010
The sheet was red, the devices were white piles wavy radiating from the canton to the centre, the Sergeant Major's colour had one pile wavy.
Ian Sumner, Christopher Southworth and Klaus-Michael Schneider, 8 November 2010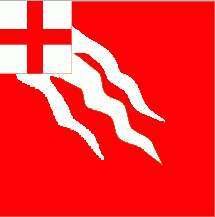 image by Klaus-Michael Schneider, 8 November 2010
The Second Captain's colour had three piles wavy.
Ian Sumner, Christopher Southworth and Klaus-Michael Schneider, 8 November 2010
image by Klaus-Michael Schneider, 8 November 2010
The sheet was red, the devices were white discs, the Sergeant Major's colour had one disc.
Ian Sumner, Christopher Southworth and Klaus-Michael Schneider, 8 November 2010
---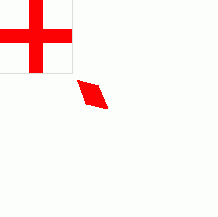 image by Klaus-Michael Schneider, 8 November 2010
The sheet was white, the devices were red lozenges pointing at the upper hoist corner, the Sergeant Major's colour had one lozenge.
Ian Sumner, Christopher Southworth and Klaus-Michael Schneider, 8 November 2010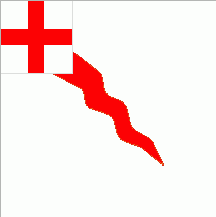 image by Klaus-Michael Schneider, 8 November 2010
The sheet was white, the devices were red piles wavy radiating from the canton to the centre, the Sergeant Major's colour had one pile wavy.
Ian Sumner, Christopher Southworth and Klaus-Michael Schneider, 8 November 2010
---
image by Klaus-Michael Schneider, 8 November 2010
The sheet was blue, the devices were white discs, the Sergeant Major's colour had one disc.
Ian Sumner, Christopher Southworth and Klaus-Michael Schneider, 8 November 2010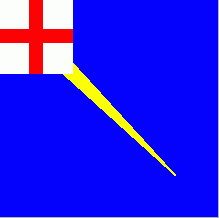 image by Klaus-Michael Schneider, 8 November 2010
The sheet was blue, the devices were yellow piles starting from the canton and pointing at the centre, looking somehow like rays coming out from the canton, the Sergeant Major's colour was blue with one yellow pile.
Ian Sumner, Christopher Southworth and Klaus-Michael Schneider, 8 November 2010
---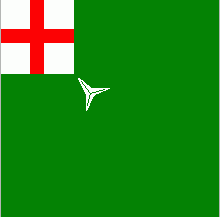 image by Klaus-Michael Schneider, 8 November 2010
The sheet was green, the devices were white 3-point caltraps rotated anti clockwise 45° thus pointing at the upper hoist corner, the Sergeant Major's colour had one caltrap.
Ian Sumner, Christopher Southworth and Klaus-Michael Schneider, 8 November 2010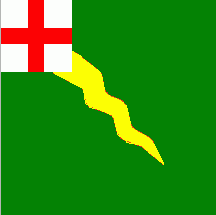 image by Klaus-Michael Schneider, 8 November 2010
The sheet was green, the devices were yellow piles wavy radiating from the canton to the centre, the Sergeant Major's colour had one pile wavy.
Ian Sumner, Christopher Southworth and Klaus-Michael Schneider, 8 November 2010
---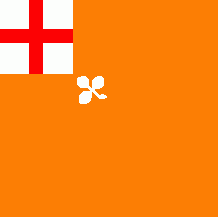 image by Klaus-Michael Schneider, 8 November 2010
The sheet was orange, the devices were white slipped trefoils rotated anti clockwise 45° thus pointing at the upper hoist corner, the Sergeant Major's colour had one trefoil.
Ian Sumner, Christopher Southworth and Klaus-Michael Schneider, 8 November 2010
image by Klaus-Michael Schneider, 8 November 2010
A variant of the 3rd Captain's colour showed the four trefoils ordered rhombish.
Ian Sumner, Christopher Southworth and Klaus-Michael Schneider, 8 November 2010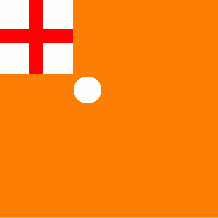 image by Klaus-Michael Schneider, 8 November 2010
The sheet was orange, the devices were white discs, the Sergeant Major's colour had one disc.
Ian Sumner, Christopher Southworth and Klaus-Michael Schneider, 8 November 2010