This page is part of © FOTW Flags Of The World website
Quasi-independent and semi-autonomous regions in Somalia
Last modified: 2012-10-05 by bruce berry
Keywords: somalia | awdal | azania | darwishland | hinterland state | gedoland | hiiraan | khaatumo | maayland | somali central | sool | tanadland | ximan and xeeb |
Links: FOTW homepage | search | disclaimer and copyright | write us | mirrors

---
See also:
---
Background
As a result of many years of civil war and the emergence of a number of armed rival "clans" seeking to establish hegemony, Somalia is considered a "failed" state as currently no central governing authority has exclusive control over the entire country. The Transitional Federal Government (TFG) is the recognised central government authority but its control is weak and a number of areas and local authorities within Somalia have declared themselves "independent" of the TFG or aligned themselves with its opponents and do not recognise it as the legitimate governing authority.
The Transitional Federal Government has nominal control in the centre of the country and has the support of the Islamic Courts Union (ICU) and Al-Shabaab. In the north and north-west five quasi-independent areas have formed since the 1990s, namely:
Northland
South-Western Somalia has declared itself autonomous in the southern part of the country.
Some of these areas, like Somaliland, have declared themselves fully independent republic and established rival governing and administrative structures while others such as Puntland do not recognise the authority of the TFG and have declared themselves "autonomous". Some of these quasi-independent and semi-autonomous regions in Somalia have also adopted distinctive symbols, including flags, while others continue to use the Somali flag.
Bruce Berry, 26 Oct 2008

---
Awdal

image by Eugene Ipavec, 19 Sep, 2010
It is not clear if Awdal is another self-proclaimed state or semi-autonomous region. The proposed flag of Awdal (see above) can be seen on many websites and variant can be seen in a photo on Somali.net (see below), which probably means it has been adopted.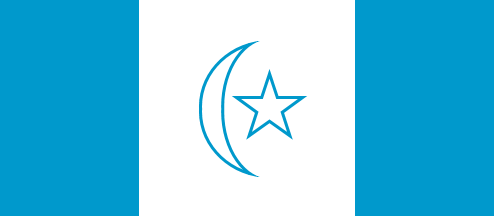 image by Eugene Ipavec, 19 Sep, 2010

Valentin Poposki, 16 Sep 2010

---
Azania / Azaaniya
image by Cai Zhenyuan, 28 Dec 2011

After seven days of deliberations in April 2011, Somalia's Transitional Federal Government, members of parliament, civil society groups and clan elders agreed to the formation of a semi-autonomous state to be called Azaaniya. Originally known as Jubaland, Azaaniya comprises lower and middle Juba and Gedo regions on the Kenya-Somalia border. On 03 April 2011, Prof Muhamed Gandhi Mohamed was sworn in as the interim
president of the newly-created state.
http://jubbalandnews.com

It was further reported that the flag of Azania shall be rectangular in shape with three colours - red at the bottom, White at the top and blue in the middle, with all stripes being of equal size (as seen in the photo below).
Cai Zhenyuan, 28 Dec 2011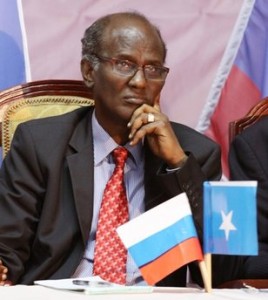 Somali politicians on Sunday announced the creation of a new state in the war-scarred nation. Somalia's fragile government, quickly condemned the move, which it said would further fracture the already chaotic nation. The
creation of Azania was celebrated Sunday in Kenya's capital of Nairobi. Its President, Mohamed Abdi Gandhi, said his primary duty is to retake his territory from al-Qaida-linked militant group al-Shabab. Since the ouster of dictator Mohamed Siad Barre in 1991 the Horn of Africa country has split into a number of clan-ruled territories and seen the creation of such self-styled nations as the Republic of Somaliland and Puntland.
Source: http://english.ruvr.ru/2011/04/04/48404227.html (see please photo)
Jens Pattke, 08 Apr 2011
Not mentioned in that short article above is that this region has been until now better known as Jubaland, consisting lately of the Somali "regions" of Lower Juba, Middle Juba and Gedo. Jubaland in the colonial era was originally part of British East Africa (Kenya), ceded to Italy in 1925 (administered for a year as a separate colony, Oltre Giuba, or Trans-Juba), and incorporated into Italian Somaliland in 1926. This region borders Kenya which is now interested in its independent status as a buffer state between it and the rest of the chaos in Somalia. Jubaland was briefly independent in 1998-99 (unrecognized), and Wikipedia reports a different flag from what is described in FOTW.

While Azania has been in recent times been better known as a proposed name for Black-majority rule South Africa (ultimately rejected by the ruling African National Congress), as well as sometimes applied to all sub-Saharan Africa, the name in the era of the Roman Empire applied to the coast of East Africa below the Horn to somewhere around Tanzania (thus including modern Jubaland). According to Wikipedia, the etymology of Azania remains unclear.
T.F. Mills, 08 Apr 2011

---
Darwishland
The following link http://www.afnugaal.com/ktmllite/images/uploads/AA%20darwiishland%20flag.JPG shows an image named the "Darwishland flag". It looks like a Somali flag with a horse head and the words "Darwishland of Somalia" added. The image does not give the proof that Darwiishland /Northland state of Somalia actually uses this as a flag but I think it was worth being reported.
Olivier Touzeau, 02 Aug 2008

---
Federated Hinterland State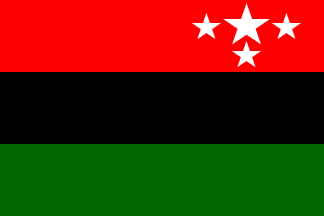 image sent by Cai Zhenyuan and resized by Eugene Ipavec, 06 Dec 2010
State Flag of the Federated Hinterland State is shown at http://www.maayland.com/hinterland.htm and is described as follows:

The State Flag shall have a rectangular shape with three equal horizontal stripes. Green indicates the fertile nature of the territory and is the bottom stripe; Red indicates the bloodshed and is the top stripe. The Black stripe indicates that Federated Hinterland is African State within the Somali Federal Republic. In the fly of the red stripe is a large white five pointed star surrounded below and on the 'east" and "west" sides by three smaller white five pointed stars.
Cai Zhenyuan, 05 Dec 2010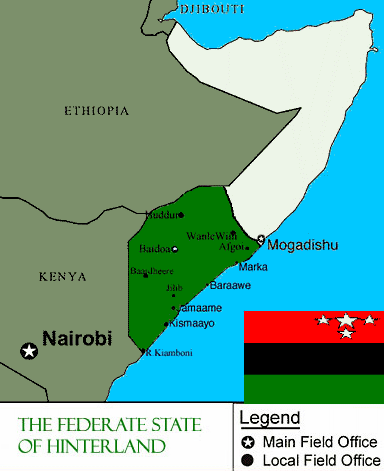 A map of the area showing an image of the flag has been posted to http://groups.yahoo.com/group/flags/files/SO/so_hinterland.gif
Rob Raeside, 06 Dec 2010

---
Gedoland

A horizontally divided green-light blue-red flag with five white stars in line on the blue stripe is shown at http://www.allgedo.com/Tempe/fegradda%20daahir%20faarax%20ee%20calanka%20mgg%20n\ews.htm as the flag of Gedoland - an autonomous area within Somalia.
Olivier Touzeau, 02 Aug 2008
---
Hiiraan State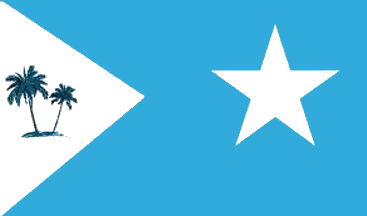 image by Cai Zhenyuan, 13 Mar 2011
It was reported by HOL that on 13 July 2010 a preliminary conference was organized and sponsored by the Hawadle Clan of Hiiraan to formally pave the way for reconciliation and to establish a local administration in the Hiiraan region of Somalia was held in the conference hall of Andolus Hotel in Eastleigh, Nairobi. A flag for Hiiraan, as shown, above was displayed at the conference.
Cai Zhenyuan, 13 Mar 2011
---
Khaatumo State

Image by Cai Zhenyuan, 03 May 2012
Khaatumo State is a newly formed semi-autonomous state located in north eastern Somalia. It was formed after a conference held in the Taleh district of Sool region in December 2011. The conference was partaken by representatives from Sool, Sanaag and Cayn regions.
Based on a photograph on flickr, the state flag has a dark blue background with a large white five-pointed star in the hoist half and a horse in the fly half, also in white. The name of the state (in English) is written at the top of the flag in white.
Cai Zhenyuan, 03 May 2012
---
Maayland

An image of the flag of Maayland / Southern Somali Union is shown at http://maayland.com/. This flag has already been reported as the flag of South-West Somalia.
Olivier Touzeau, 02 Aug 2008
---
Somali Central State
image by Valentin Poposki, 15 Sep 2010
I think the 'Somali Central State' is just a proposal by an exile group in the United Kingdom. You can see this at the last line at the bottom of the first link "Maxamed Xaashi Cabdi Leicester,
UK". There are also Youtube video links of a meeting in the UK showing people discussing this development.

The cities they claim, Caabudwaaq (Abudwak), Dusa Mareb, Gelinsoor, etc. are deep in the Mudug and Galguduud regions near the Ethoipan border. I don't think the 'SCS' has any control over these areas. Ahlu Sunna Waljama'a, a Sufi militia, now controls much of the Galgaduud Region after defeating Al Shabaab in a number of battles in early 2009.
Ben Cahoon, 16 Sep 2010
Valentin Poposki reported on the flag of Somali Central State in September 2010, but there were some doubts about its existence.

I have now found pictorial evidence of this flag. Local online news reported a meeting in Nairobi and Sawiro held on 16 October 2010. Maybe this is the date of the formal establishment of the newly formed Somali Central State?

As it can be expected in case of an African entity, there are many variations of this flag. There are wider and narrower crescents being used, and variants with and without inscriptions. Some images show white letters, the others have black letters. But the motifs are the same (light blue field, white crescent and star).

I have no information on existence of this state but it is mentioned in a number of online news articles.
Zoltan Horvath, 16 Jan 2011
---
Sool, Sanaag and Cayn regions
image sent by Cai Zhenyuan, 13 Mar 2011
Sool, Sanaag and Cayn (SSC) of Somalia are three regions claimed by both the Somaliland and Puntland administrations and hope to "liberate" from the government of Somalia (as reported by bartamaha.com).
Cai Zhenyuan, 13 Mar 2011
---
Tanadland

The flag of Tanadland is reported to be 8 horizontal stripes, alternatively orange and blue, with the Japanese naval ensign design in the canton and is shown at http://www.tanadland.com/calankatanad.jpg and
http://www.tanadland.com/.
It is not clear whether this is a de facto entity in Somalia.
Olivier Touzeau, 02 Aug 2008
---
Ximan and Xeeb (Himan and Heeb) Administration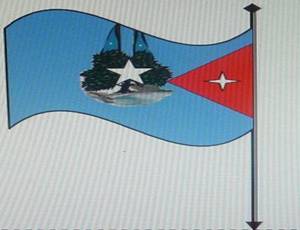 image sent by Cai Zhenyuan, 14 Mar 2011
badweyn.com reports that the Himan and Heeb Administration was formed by the Elders and Elite of the Reer Haji Suleiman (Saleban) sub-clan of the Haber Gidr Hawiya Clan in 2008 at a ceremony held in the Administration capitol, Adado. Adado is located along the main tarmac road that connects northern Somalia with the south. The Administration covers approx 5,000 square miles and is bordered by Godin Labe Village in the South, Amaaro village (Harardhere district) in the South East, and Hobyo in the North East and Been-Dhaarte of Galmudug administration in the North and West.
Himan and Heeb is a local provisional government in the southern and central regions of Somalia which uses the flag shown above.
Cai Zhenyuan, 14 Mar 2011
---